As complaints go its a good one to have to deal with. I have had two separate partners contact me recently, both working on some large volume deals who have our cellular routers out on free proof of concept deployments. Everything is going great, they can see heavy usage on the routers using InControl's monitoring capability so they know the kit is being appreciated, but when they ask for the return of the loan kit to move on to the next stage of the opportunity – well, no one wants to answer their calls.
So what? You might ask, just invoice them for it and be done. Well when working with these multi-million pound companies, invoices only get paid when there is a matching PO and guess what, their contacts haven't raised one yet – so thats a no go too.
In many ways it reminded me of when I borrowed my brothers 4×4 for some towing recently and worked hard to come up with excuses not to return it for as long as possible because it was so useful. I did eventually of course, with a full tank of fuel and a crate of apologetic thank you beer, but I have to admit made it hard for him to contact me for a few days until I got it back to him. I remember at the time thinking how glad I was of its age, since if it was a modern smart connected car I'm sure he would have disabled it remotely to force me to speak with him – and thats when the idea struck me that we should be able to do something similar with the PoC kit on loan too.
Remotely Disabling a Peplink Device
You can of course quite easily disable a remote Peplink device if you are its administrator in InControl by editing (or effectively 'breaking') its device config. Simply turning off the DHCP service and disabling the AP in most instances would be enough to stop the casual user from being able to use it, with perhaps adding an outbound policy rule that enforces the redirection of traffic to an unused WAN port for those users more determined to get connected. However, by doing so you risk alienating your customer and so a more elegant approach would be desirable, something that lets them know the trial has come to an end and that they need to get in touch to discuss the next steps.
Repurposing Captive Portal as a message board
A nice tidy approach to this is to enable captive portal on the device and create an external splash page on your website that politely informs the device users that the trial has ended and lets them know how to get in touch with you to return the gear or to extend the trial. You can do this really easily by grabbing my free Splash Page Code and editing the index.php file to change the message delivered from terms and conditions to 'Your trial has ended'. Then if you edit the form action of the submit button so that when pressed they get redirected to your contact page on your website, end users can't browse the internet but can work out how to contact you to move onto the next stage of the project. Tidy right?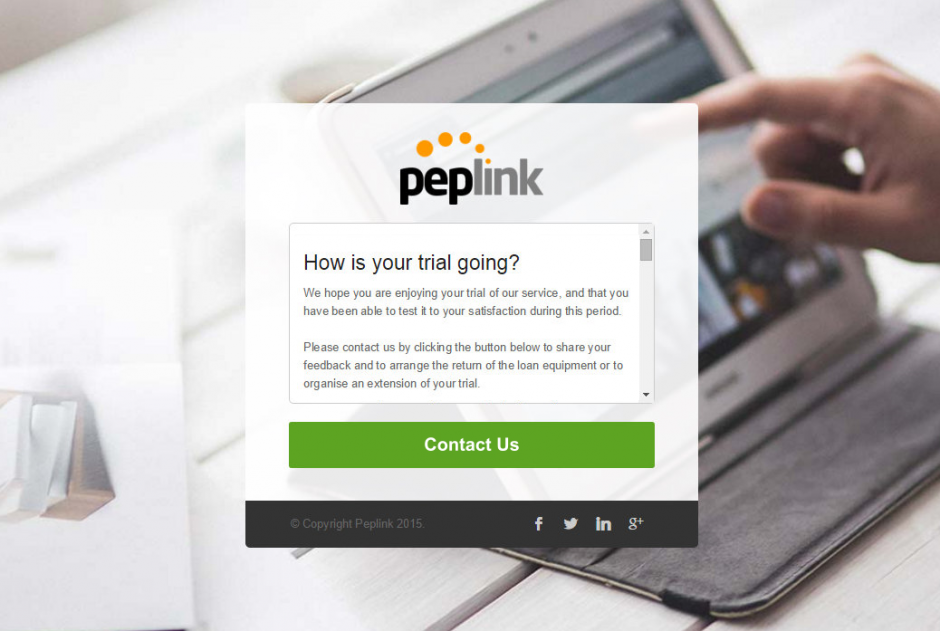 The on device captive portal settings are straightforward too, just enable captive portal, set the quota to be reasonable for the amount of data required to access your contact us page a couple of times, add your website domain in as an allowed network and set the splash page to be externally hosted and pop in the url of this edited trial has ended page. Job done.
If you're struggling to get your loan kit back I hope you find this useful, and if all else fails you could always track it's location on Incontrol and send a friendly sales engineer round to say hello and ask for it back