If Willy Wonka started a factory that made wireless network equipment I think he would have called it Ubiquiti Networks.
Stumbling round their website, mouth agape at the beautiful and delicious looking hardware I feel like Augustus Gloop – running from one bit of kit to the next hungrily eating up everything I can find on their product offerrings.
We've have used a pair of their Nanostation M5s for a couple of years now as a wireless bridge between our head office and our data centre and they have been reliable and consistent throughout. So when I had a project come over my desk for a 5mile wifi bridge that needs to deliver 150Mb speeds at the lowest possible latency I naturally thought of them and ordered some kit to play with.
The project is currently on the drawing board as we specify the correct kit to do a proof of concept but I couldn't resist ordering a pair of their nanostation M2′s to have a play with. They are POE, small at about 30cm by 8cm (the loco is even smaller at 16cm x 8cm) and jam packed fully of cleverness.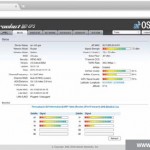 Installation is a breeze with signal strength indication on the rear with options for a couple of mounting brackets, but the best thing by far is the management web interface.
I've used a bunch of wireless AP's and bridges in the past and you could tell that they had been built by RF engineers first then had the interfaces bolted on almost as an after thought – they tended to be slow, clunky, complicated and not at all pretty. So when you load up the AirOS for the first time its hard not to get excited.
The management interface is responsive and so easy to use you find yourself clicking through it and configuring everything without even thinking about it. Then there is the airView Advanced Spectrum analyser and damn if that isn't the prettiest most useful tool I've seen on any piece of standalone kit in a very long time. It gives you full visibility of the available spectrum you have for the bridge you want to implement. You can see what traffic is going on in the air around you and make the best decisions on physical antenna location and frequency / spectrum choice using it.
What I really want to get my hands on is their AirMax Rocket M GPS devices. They use GPS as a timing signal for the Time Division Multiplexing and data synchronisation between stations – it means they can squeeze more data into the specutrum as it reduces data collision and is genius.
If you need wireless you simply must have a play with the ubiquit networks kit – its delicious!